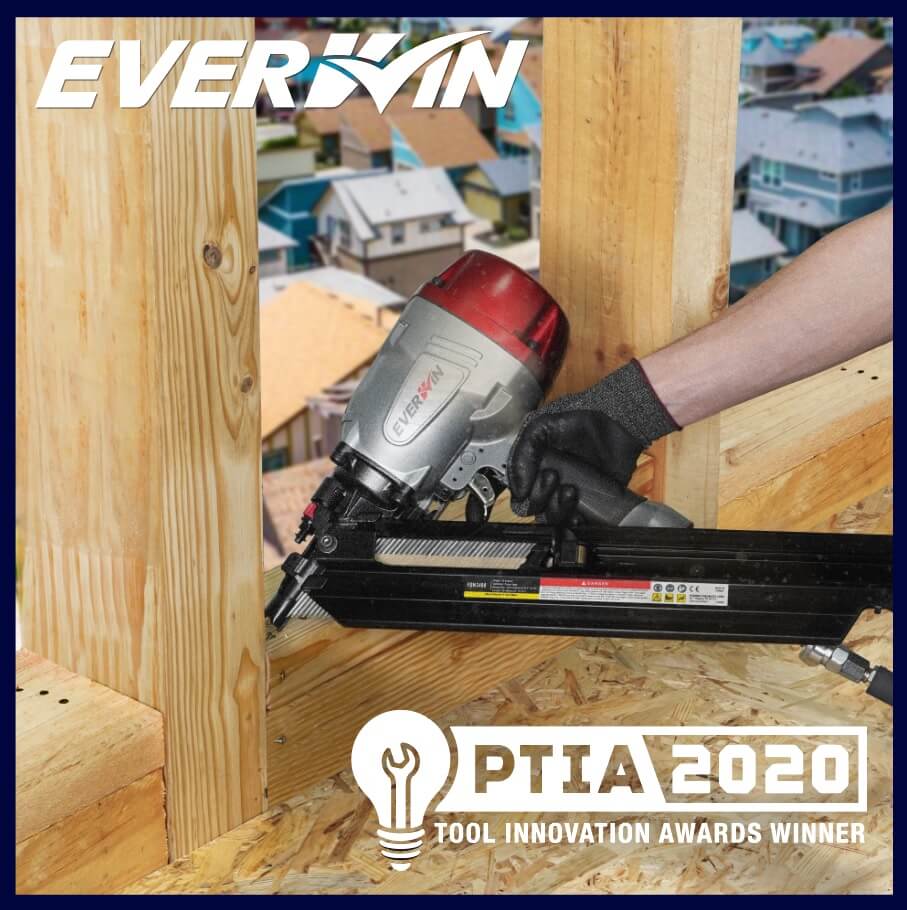 Product Press Releases
EVERWIN PTIA Award Winning FSN3490
May 17, 2022
Boosted Power For Engineered Lumber:
EVERWIN Introduces Yet Another 2020 PTIA Award-Winning 3-1/2" (90mm) Framing Nailer.
Everwin Pneumatic Corp. is proud to introduce its 2020 PTIA award-winning FSN3490, a 34° 3-1/2" (90mm) framing nailer. Its unique design stomps its dominance on the pillars of POWER, MANEUVERABILITY, and SPEED.
The FSN3490 is prominently known as the world's most powerful 3-1/2"(90mm) framing nailer, delivering a pounding 1000 In-lbs beating out its closest competitor by almost 14% more driving power. Now while higher driving power may not always be advantageous, in today's construction market engineered dense materials such as cross-laminated timber (CLT) are becoming much more popular for structural integrity. Normally traditional framing nailers are not geared to penetrating such dense material, however, Everwin now answers the call with superb driving power. If you thought that extra punch would sacrifice its weight and speed, it certainly did not.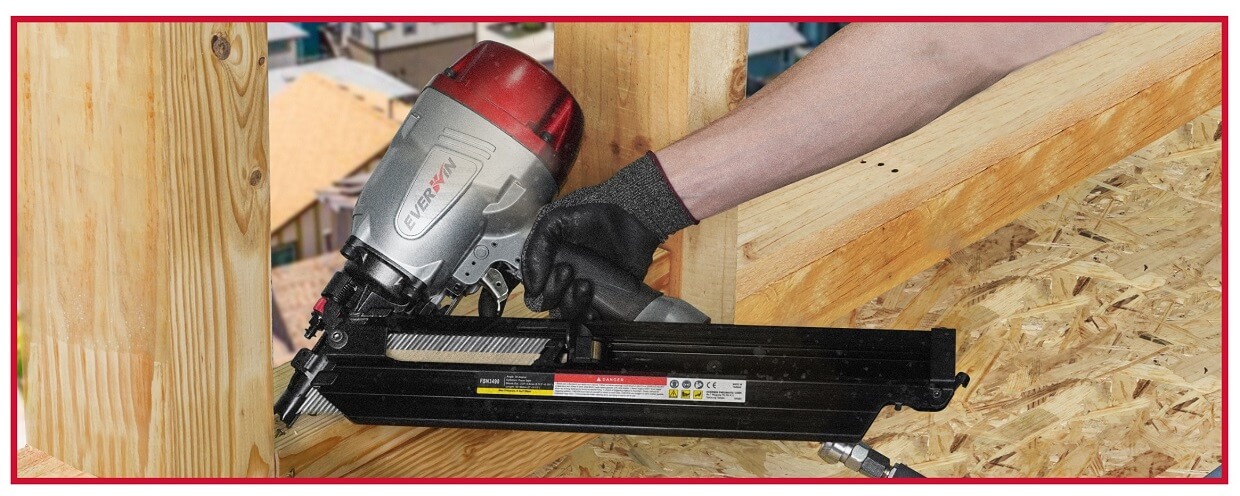 At the weigh-in, the FSN3490 comes in a mere 7.9lbs (3.6kg), still lighter compared to others in the same class. That gives it the boasting rights in class as holding the best power to weight ratio amongst our competition. To emphasize the maneuverability of the FSN3490, its compact 13.4" (340mm) height allows for hassle-free maneuvering in between standard C-C studs.
Typical economic valves average a maximum of 7 – 10 cycles per second, however, thanks to our industrial grade valve design, Everwin's FSN3490 fires a blistering 13 cycles per second. These upgrades in speed are essential, especially in applications where drag fire is key such as framing and sheathing.
To wrap up, the FSN3490 comes with no shortage of practical features such as a:
Metal exhaust cover
46mm wide rafter hook
Top-loading all-metal magazine
Tool-free depth adjustment
Serrated contact arm
Standard sequential trigger (optional contact trip available)
Ultra-compact nose
You can take a visual look at the beast in action here. The FSN3490 is already in circulation in over 42 different countries and is continuing to grow in popularity, reach out to sales@everwinpneumatic.com to get your hands on the most powerful framing nailer in the industry today.
OFFICIAL PRESS RELEASE
# # #
About EVERWIN PNEUMATIC
EVERWIN® is a stapler & nail gun manufacturer founded in 2012 by a group of American and Taiwanese pneumatic tool experts, each boasting decades of experience and success in the world of pneumatic fastening. They founded the company with one shared goal in mind— to "build a brand the fastening industry can rely on for consistency and efficiency". EVERWIN quickly garnered recognition as a premier brand for industrial fastening tools. With strong roots in the industrial market, EVERWIN has a different take on construction nailers and staplers from most price-driven manufacturers today; and with a touch of innovation, its 2017 and 2018 product introductions earned EVERWIN back-to-back Pro Tool Innovation Awards