CAREERS - LIFE AND WORK
LIFE AND WORK
Learn about benefits of working with EVERWIN and what being part of the EVERWIN Family is all about.

WHY EVERWIN

EXCITING WORK
At EVERWIN, every member takes part as we strive to reinvent fastening solutions to make woodworking safer and more efficient. Together, we build a brand that we as a family are proud of.
More On Our Work

GOOD PEOPLE
Life at EVERWIN revolves around our culture. Key traits of an EVERWIN staff are selflessness, passion and honesty, creating a harmonized yet challenging workspace where people push each other forward and pull each other up.
Our CSR Policy

UNPARALLELED REWARDS
Members of EVERWIN enjoy great pay and perks, but they also value the opportunity to learn from some of the most passionate and driven people in the industry, grow their career with us, and give back.
Rewards & Benefits

LIFE AT EVERWIN
We cultivate a superb working environment and culture, generating healthy interactions between employees and a happy working atmosphere.
A Flexible Leave Policy
We implement a flexible leave policy that grants employees breaks and vacation days of all sorts judging by personal needs.
Company Dinner Parties
We host dinner parties once every quarter to help maintain strong team spirit.
Employee Lounge
Whether you're dining or resting, our employee lounge provides the best comforts.
Effective Communication
To boost the efficiency of teamwork, we strongly encourage direct communication across the hierarchy.
Convenient Commuting
In addition to our very own employee parking lot, there are bus stops close by that provide free public transport.
Employee Suggestion Box
Employees get to anonymously express their opinions and thoughts regarding work through our company suggestion box.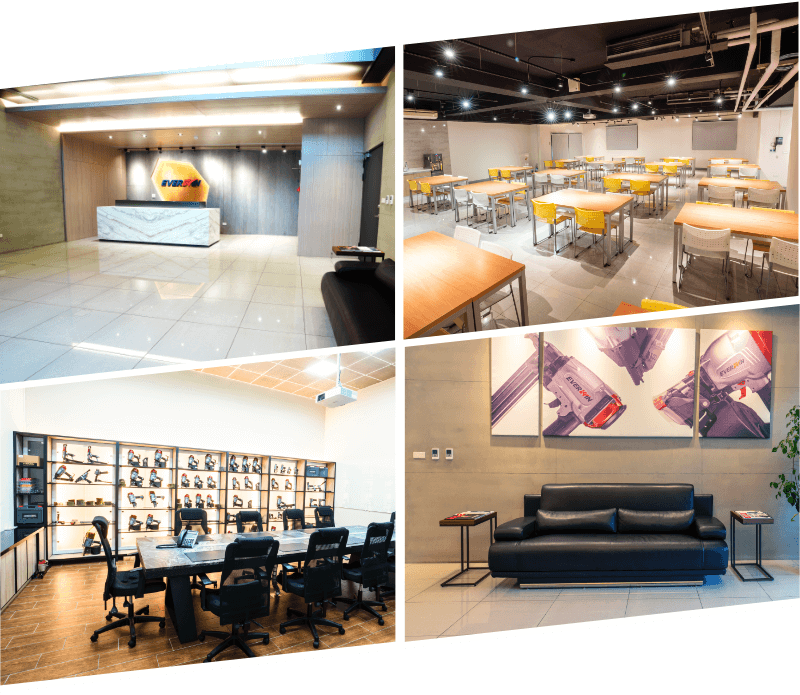 STAFF BENEFITS
The Best All-around Set of Welfare Policies

Free Healthy Lunch
Delicious and well-balanced lunch buffets are provided free of charge.

Comprehensive Health Checks
Nothing comes before good health. Therefore, we arrange company-wide periodic health examinations from the leading hospitals.

Retirement Pensions
Working in accordance with Taiwanese labor laws, for retired employees, we allocate funds no less than 6% of their monthly wages to their accounts.

An Extensive Insurance System
Whether it's labor insurance, health insurance or group insurance, we all got you covered.

Employee Training
Customized classes for every department ensures that we maximize both employee efficiency and teamwork productivity.

Year-end Parties
The year-end party comes with a delicious feast and a generous raffle to celebrate the coming of a new year!

Occasional Allowances
We provide all sorts of allowances for special occasions such as Labor Day, employee birthdays, wedding days, childbirths…etc.

Overtime Meals
To thank our employees for the additional time they spend working, hot meals are served. This is on top of standardized overtime pay.

Paid Parental Leave
As we understand how tough pregnancy can be, we pay salaries in the full amount to all mothers-to-be.

Annual Company Vacations
To show our appreciation for your contributions, we host annual company trips packed with fine-dining and activities.

Monthly Birthday Parties
The EVERWIN family hosts monthly birthday parties, with cake and special lunches. Birthday stars receive good-luck money in addition.

Uniform and Accessories
We provide free uniforms and work-related accessories to all employees.

COMPENSATION SYSTEM
We Offer a Sound and Comprehensible Compensation System.
01

Guaranteed Annual Salary

13 months

02

Annual and Performance Bonuses

Amount given will be based on the condition of the company and personal performances.

Employee salary comes with scheduled raises along with potential further increases based on personal performance.

04

Innovation/Certification Bonuses

We entice innovation or self-enhancement from employees with a generous reward.

05

EMPLOYEE REFERRAL BONUSES

Recommend an able friend that shares the same passion and get rewarded handsomely.

An impartial career advancement system based on personal development planning and efforts displayed.
CONTACT US TO INQUIRE ABOUT CURRENT OPEN POSITIONS
Work with us