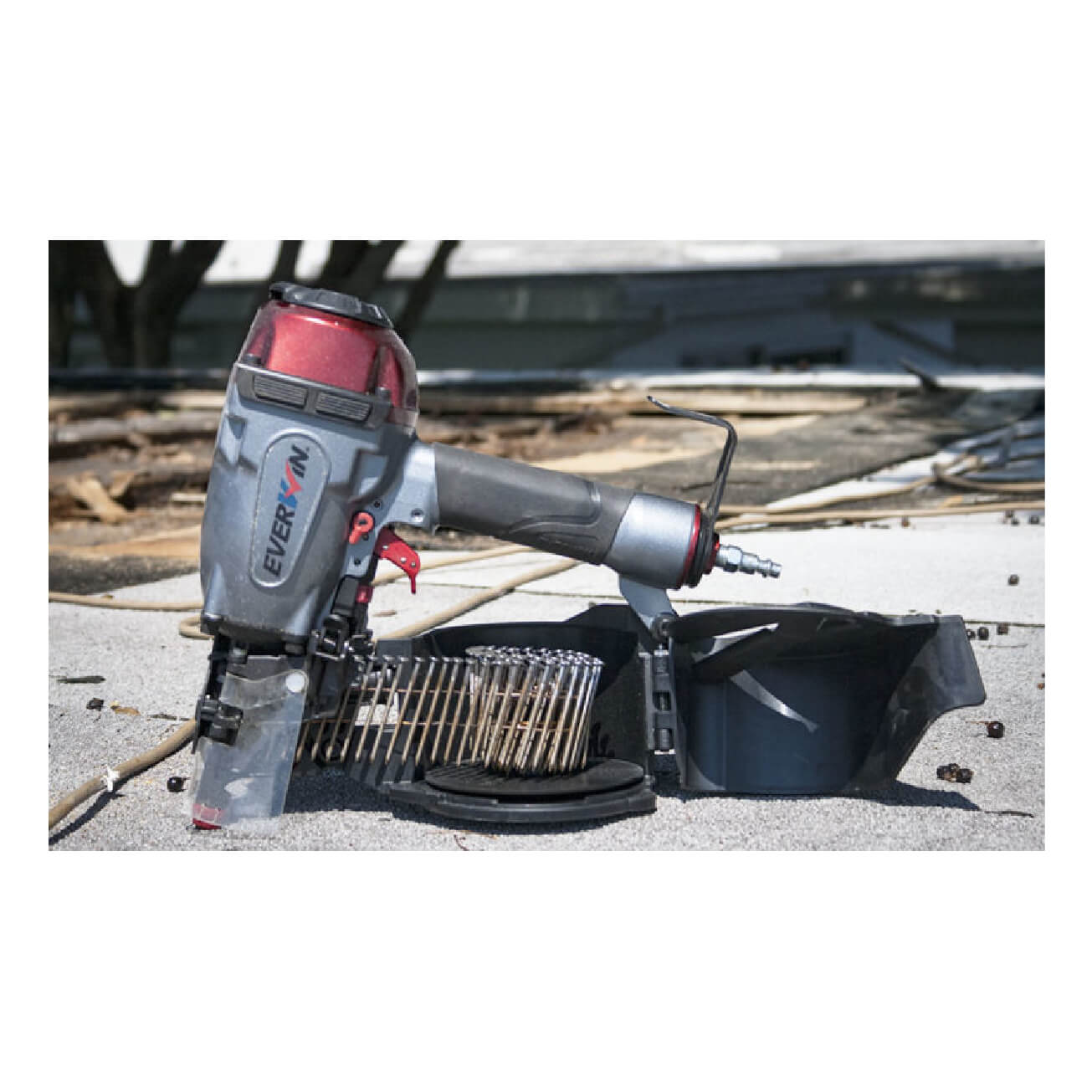 Media Reports
EVERWIN® SCN65 Coil Siding Nailer Review by Pro Tool Reviews
Mar 22, 2017

The contents and photos hereunder are taken from Pro Tool Reviews' publication on March 22, 2017 written by Luis De León and Rita DeLioni.
Don't you love the smell of new tool features in the morning? We've come to expect coil nailers to remain generally the same with only marginal tinkering, but Everwin set out to prove us wrong. Since we like better tools, hopefully, Everwin hit the nail on the head with the Everwin Coil Siding Nailer. Although the Taiwanese company has a long pedigree of tool development, it was only founded in 2012, so many Pros might be unfamiliar with it. Everwin is trying to make a splash with some helpful innovation, and we're here to see if it's beneficial.
FIRST IMPRESSIONS
The nailer stands out right away because it doesn't have the familiar color scheme of any of the common manufacturers. There's no yellow, orange, or all silver that you'd expect to be doing the job. The Everwin Coil Siding Nailer has a matte gray body and dark red cylinder cap protected by rubberized bumpers on both sides.
All of the parts you'd be familiar with – the nylon magazine, the 360-degree adjustable exhaust deflector, the metal belt hook, tool-free depth of drive dial, and safety lock-out appear well-built and sturdy. Magazine capacity is between 200 and 400, 15-degree, 1-1/2 to 2-1/2-inch angled wire or plastic coil collated nails.
The rubber overmold grip is comfortable and the whole gun is light and well-balanced at around 5 pounds. A transparent dust cover protects you from airborne pieces of the collated wire or other debris generated by the driving force.

What isn't readily apparent are two innovative features that might help the Everwin stand out among the pack of coil siding nailers: what the company calls Precision Nailer Tech with a patented 2-piece contact arm design and a Smart Trigger that can change between sequential fire and bump fire without a switch. Precision Nailer Tech allows the nailer to drive the nail flush with the surface without marring it. The Smart Trigger lets you decide what type of actuation is best at the moment without pausing work. All told, it seems like a versatile nailer that Everwin claims can handle siding, roof decking, subfloors, and more.

EVERWINNING
Florida's summer rains are merciless to flat roofs, so we had a bit of rotten wood and detritus to clear up before we got started. Once we were ready to put new wood on, we hooked the 70-100 PSI Everwin Coil Siding Nailer up to the compressor and started fastening 1/2-inch plywood to the 2×4 rafters beneath.
DON'T GET SHANKED
Everwin Coil Siding Nailer SCN65 I quickly found that I had to really turn up the air at the compressor so that nails didn't stand proud. At first, it was puzzling that my normal siding nailer drove the nails without a problem but the Everwin needed some extra "umph." The 8 penny nails Pros typically use on a job like this are simply outside the spec limit of a 0.099″ shank.
You could make a strong argument that we were pushing this gun to its limit, as there's no doubt it could handle siding work better suited to a siding nailer. Still, Everwin says this nailer is designed to handle roof decking – you're just going to be limited in shank size to get it done.
GETTING INTO THE SWING OF THINGS
Once the work was in full swing, I really enjoyed using the Everwin Coil Siding Nailer. Its light weight rivaled the very lightest guns in its class, which is really the most important characteristic of any nailer, other things equal. The magazine adjusts easily between nail sizes and I didn't experience any jams. However, I found that it took Everwin a bit longer to recycle and be ready for the next nail than I'd like it to take. The delay wasn't a function of the compressor's capacity but rather the gun's recharge speed. We could have had this gun near its limit.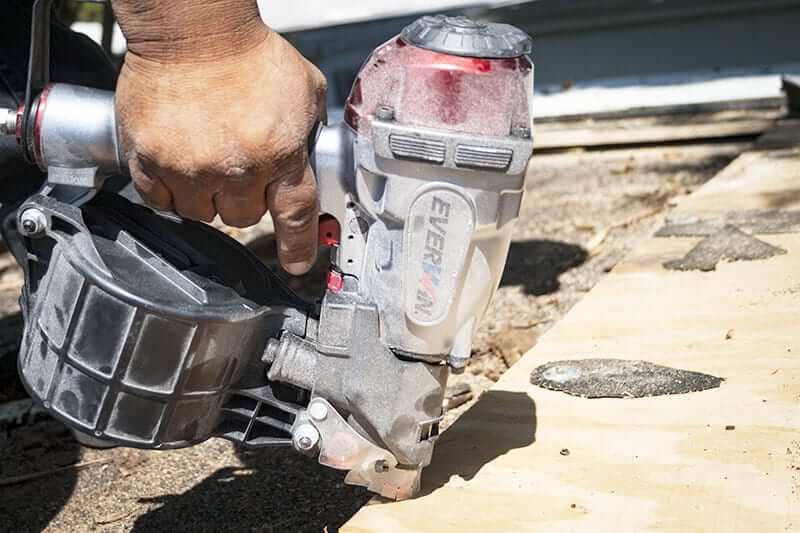 I must give Everwin credit for pushing the envelope with the Smart Trigger, but in practice I found it to be no more or less convenient than a gun without it. You may certainly think differently. The fact of the matter is that I usually don't switch between actuation modes all that often, so the feature doesn't save a measurable amount of time. That's certainly not meant to discourage the innovation, but in practice, we'll bump fire on roof decks and single fire on siding. The nice thing is that you don't have to check the mode before you get started.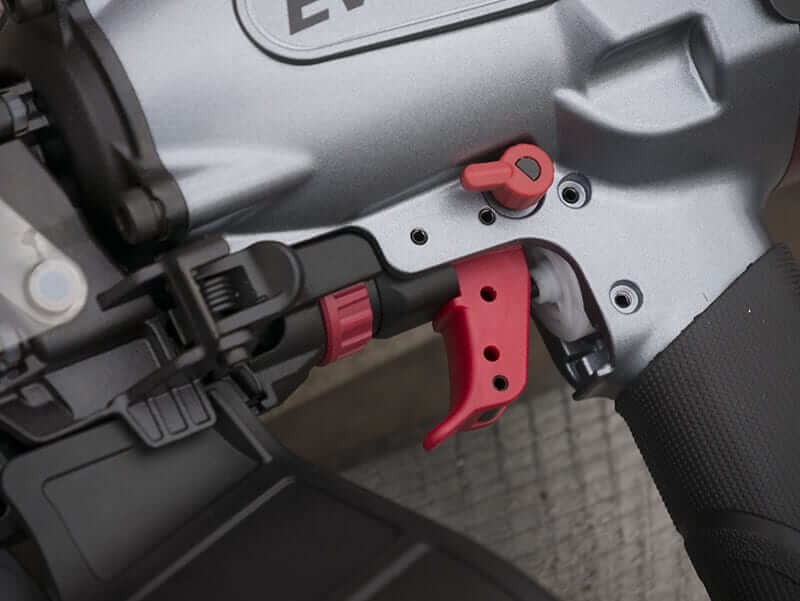 It's odd that framing is listed in the Everwin Coil Nailer's capabilities because its magazine can't accommodate 3-1/2-inch nails and nail thickness common in framing. For that reason, a dialing back of the expectations might be in order.
THE BOTTOM LINE
The Everwin Coil Siding Nailer is just one of the company's deep product line. It is well-built with tough, durable materials with all the features you'd expect from a Pro siding nailer: a 360-degree adjustable exhaust deflector, a metal belt hook, tool-free depth of drive dial, safety lock-out, comfortable rubber overmold grip, lightweight at 5 pounds, a transparent dust cover, and a 200-400 nail capacity.
But Everwin has included a couple innovations that can break nailers out of their marginal innovation funk. Precision Nailer Tech can drive nails flush with the nailing surface without marring or creating divots in your material. The Smart Trigger allows the user to use both bump fire and single fire without flipping a switch – not something that we found to be a massive time saver but it avoids the frustration of realizing you're in the wrong mode on the first shot.
Although Everwin claims the nailer can handle roof decking, a 0.099″ shank diameter max limits what you can realistically do. There's no doubt it can handle siding, furring, strapping, and fencing, but roof decks (and thus subfloors as well) where 1/2-inch plywood is fastened to 2x's of some sort will push the limit. I also found it took a bit longer that I'd accept to recycle and be ready for the next nail.
But within its recommended limits, this is certainly a light, well-balanced, and well-built nailer. I can recommend this nailer for the purpose in its name – siding – and all those functions that you'd typically use a siding nailer for, but I can't tell you that decking, subfloors, and framing are within its scope, despite Everwin's claims. If you keep that in mind, then you'll have a fine nailer!
EVERWIN COIL SIDING NAILER FEATURES
Patented "Precision Nailing Tech" and "2-piece contact arm" design
Auto-Adjust "Smart Trigger" automatically switches between continuous and sequential firing mode
360° Multi-directional exhaust cover
Cushioned rubber grip and ergonomic frame design provide comfort and balance during operation
Tough nylon, fast and easy loading magazine
Tool-Free Depth Adjust and Trigger Lock for safety
Durable nose and Anti-abrasive driver for extended tool life
Dust cover blocks nails or wire chips
Durable Metal Belt hook for workplace convenience
Body Protector on enduring frame
EVERWIN COIL SIDING NAILER SPECIFICATIONS
Model number: SCN65
Tool Weight: 2.3 kgs / 5.0 lbs
Height: 11.7" (297mm)
Length: 10.7" (272 mm)
Width: 5" (127 mm)
Trigger Type: Selectable Actuation
Operating Pressure: 70 to 100 PSI (5-7 bar)
Air Consumption: 0.044 ft/cycle at 90 psi (6 bars)
Air Inlet NPT: 1/4″
To view the original article, visit https://www.protoolreviews.com/tools/air/roofing-siding/everwin-coil-siding-nailer-scn65/29495/