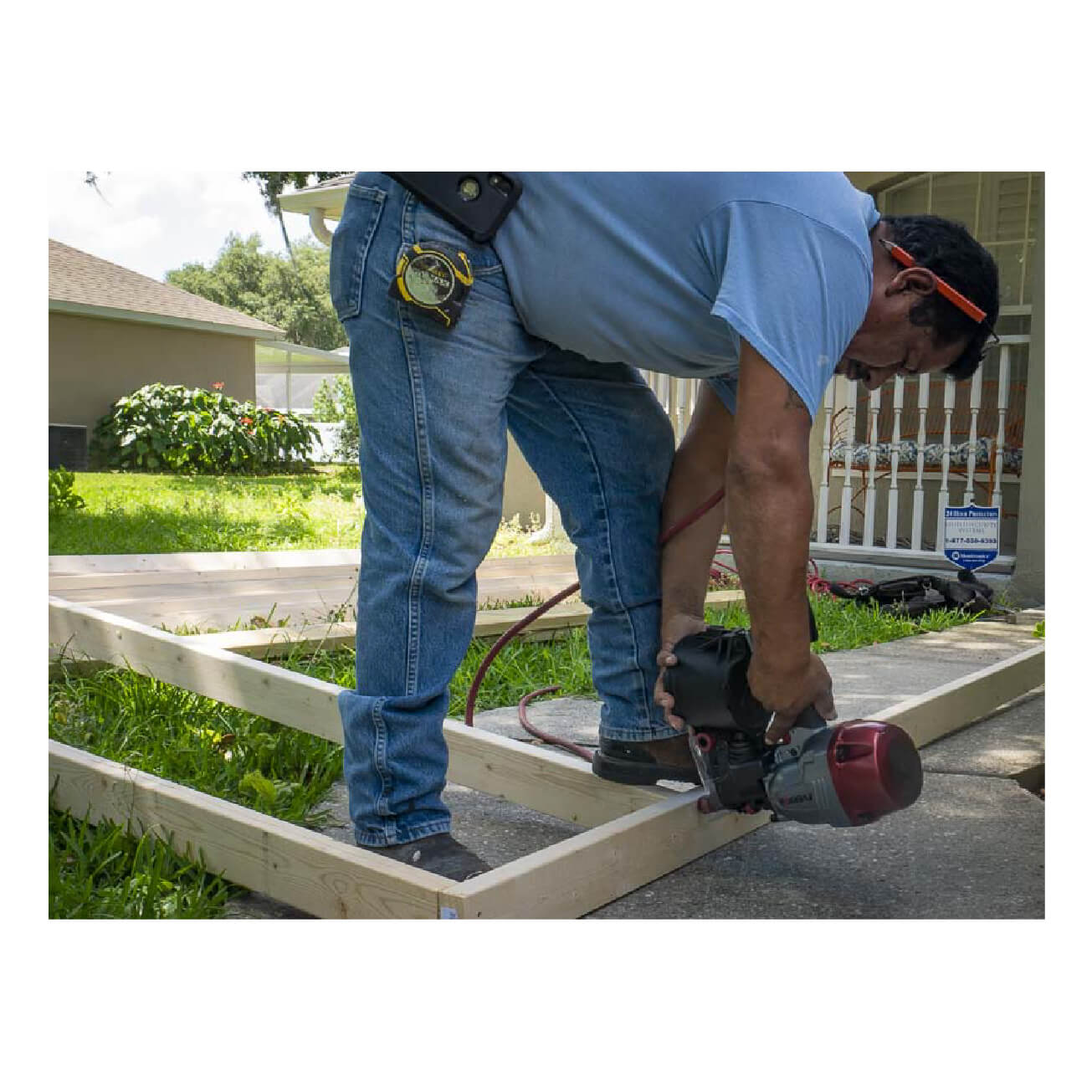 Media Reports
EVERWIN® FCN90 Coil Framing Nailer Review by Pro Tool Reviews
May 24, 2019

The contents and photos hereunder are taken from Pro Tool Reviews' publication on May 24, 2019 written by Luis De León and Rita DeLioni.
The Everwin Coil Framing Nailer dubs itself the most compact 3-1/2 inch coil framing nailer on the market: The FCN90 model number differs slightly from the 2017 Pro Tool Innovation Award-winning FCN90L, which is the lightest coil framer available. Our crew put this Everwin framing tool to the test on many jobs over the last few months. Overall, it did a great job and kept us working efficiently.
PROS
Compact (as advertised) at just 11.9-inches long
Very powerful
Lightweight
Auto-adjusting trigger toggles between single and bump actuation
CONS
RECOMMENDATION
Everwin has done a great job of making a powerful, light, and remarkably compact coil framing nailer. Although we know a lot of Pros prefer stick nailers, if you're interested in one nailer to rule all your roofing, siding, and framing jobs, you'll want to consider the FCN90.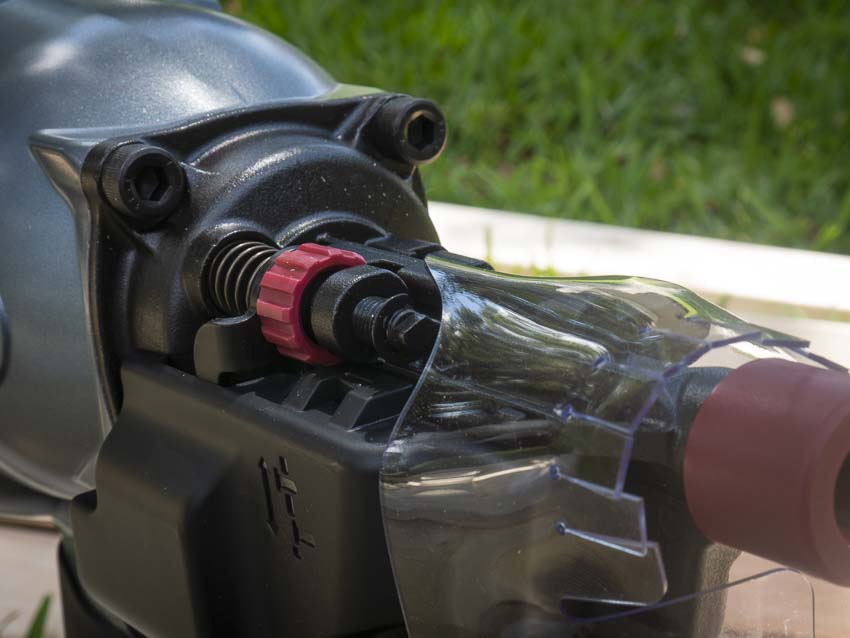 PERFORMANCE
ALL COILED UP
There's plenty of debate about coil versus stick nailers on our jobs and around the roofing industry. You get more nails, but also a relatively heavier nailer. Coils won't easily fit in a pouch. If you drop a coil it could roll down even a low pitch roof…and so on. However, a lot of guys prefer coil nailers for sheathing and use stick nailers for framing.
We picked up the Everwin Coil Framing Nailer just before the start of a remodel job. Our Pros were so interested in the noticeably compact profile (just 11.9 inches) that they had to test-fire it before going inside! We were immediately impressed with the nailer's power. It hits hard. Over the course of the review and several more jobs, we began to prefer the FCN90 over our other framer. Not only does it require fewer reloads, but it's also more flexible. Because it accommodates nails from 2 to 3-1/2 inches, our Pros can roof, side, and frame with the same tool.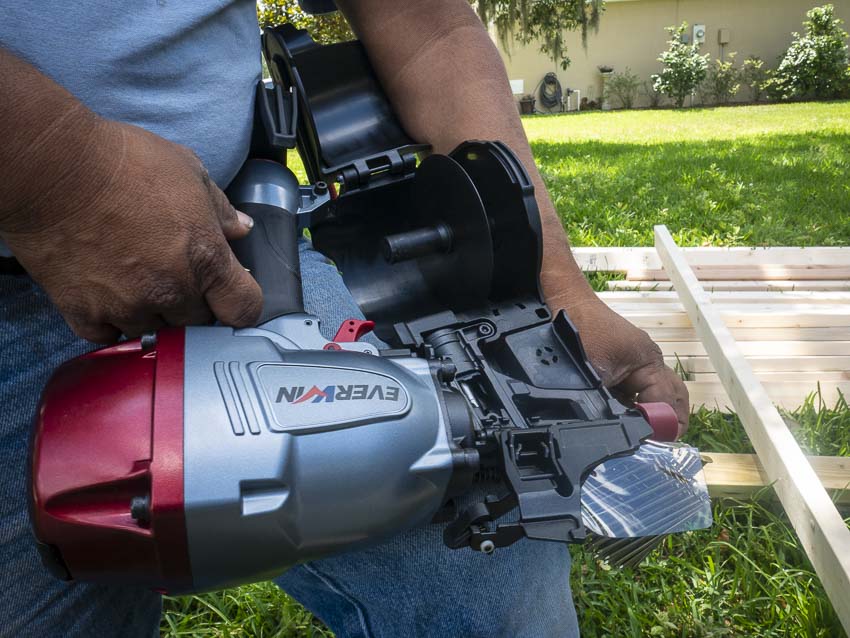 It also helps that the coil nailer weighs a light 7.7 pounds before you add nails. The Everwin FCN90 nailer shaves at least some of its weight thanks to a nylon magazine. Although it feels flimsy, it's actually quite tough.
NOSEY NAILER
At just 11.9 inches from nose to exhaust, the Everwin coil nailer fits, as the company claims, between standard stud spacing. Now, we've framed walls for years with guns that wouldn't fit between studs. As a practical matter, that might be impressive without being all that useful. Still, we can't complain about the extra room the nailer affords in tight spaces, corners, decks, and so on.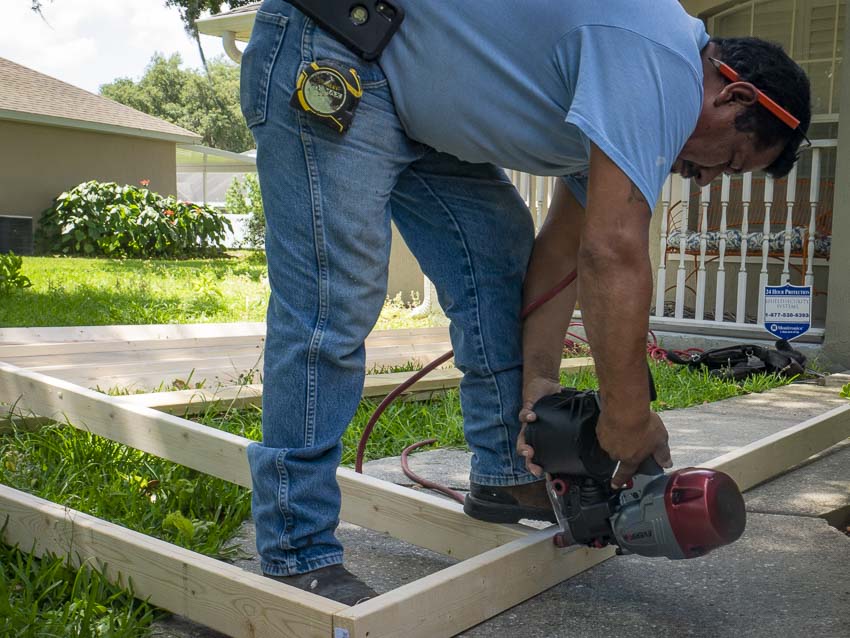 If you looked at the red bumper around the Everwin's nose, you might have guessed that it won't do much framing like that. The bumper is for sheathing and siding work, and it's removable. Underneath is a nicely spurred nose that grips wood sufficiently for toenailing and general framing.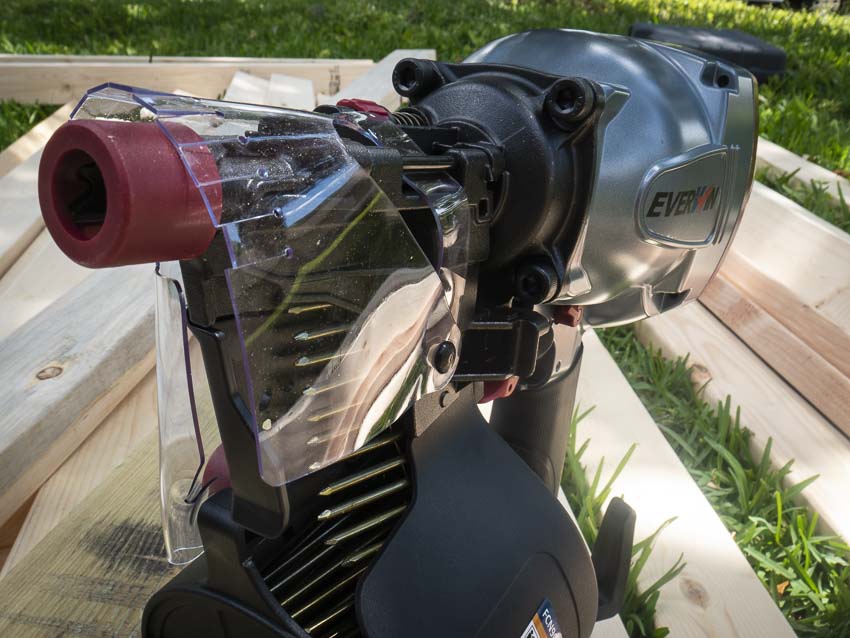 BELLS AND WHISTLES
The Everwin Coil Framing Nailer features nearly all the premium things we like. The rubber grip is comfortable, adding to the tool's well-balanced ergonomics. It's easy to switch between single actuation and bump fire. There's a rotatable hook, too. A lot of Pros might remove the dust cover, but it certainly cuts down on collation shrapnel.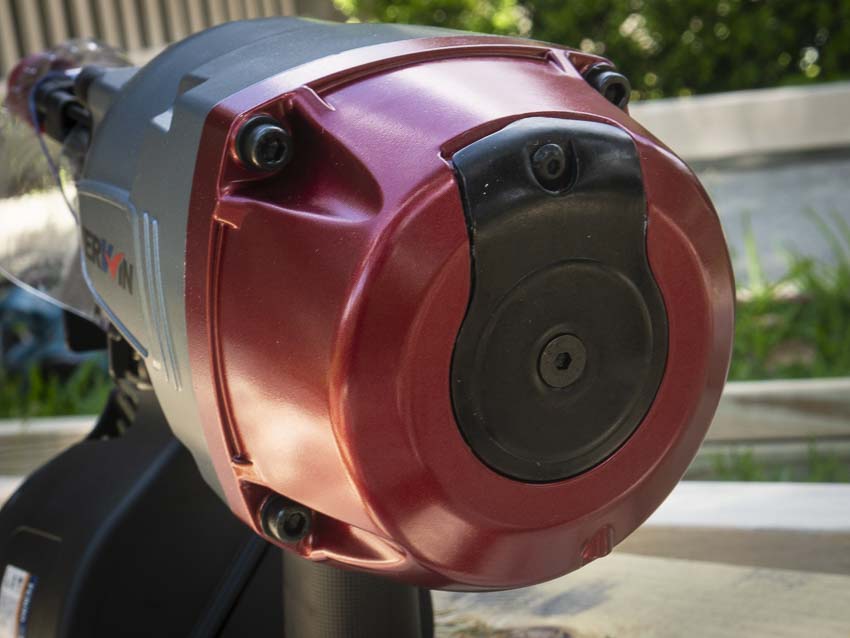 The website specs report that the exhaust cover is "360° multi-directional", but that's clearly not the case as the exhaust can only be released through the top. That's not a big deal to us. However, no rubber bumpers exist along the body to protect the tool. Even though the nailer is tough, we'd like to see some along the widest part of the body.
THE BOTTOM LINE
Everwin's effort to push forward the framing nailer's power, compactness, and performance is clearly evident in the FCN90. It can easily handle sheathing, siding, and framing in tighter spaces with fewer reloads than many of its peers. We'd like to see some rubberized bumpers along the body but otherwise, it's hard to find fault with this coil nailer—and easy to love it.
EVERWIN COIL FRAMING NAILER SPECIFICATIONS
Model Number: FCN90
Tool Weight: 7.7 pounds
Height: 13.2 inches
Length: 11.9 inches
Width: 5.2 inches
Selectable Actuation Trigger
Operating Pressure: 70 to 100 PSI
Air Consumption: 2.0 L/cycle at 90 PSI
Air Inlet NPT: 1/4 inch
To view the original article, visit https://www.protoolreviews.com/trades/framing/everwin-coil-framing-nailer-fcn90/45326/