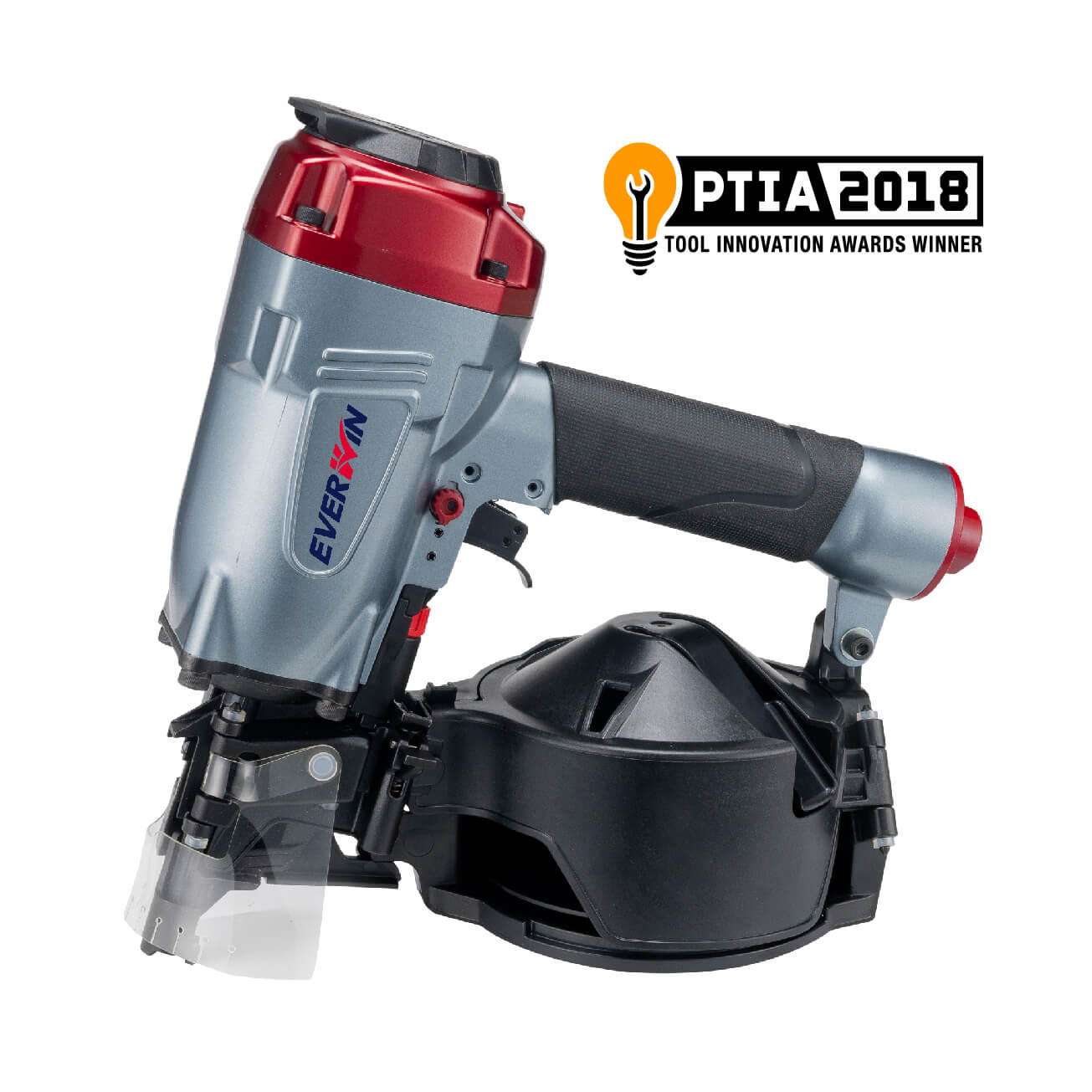 Media Reports
EVERWIN® Wins a 2018 Pro Tool Innovation Award
Sep 30, 2018

The contents below are based on Pro Tool Innovation Awards' publication in 2018.
This month wrapped up judging for the 6th annual Pro Tool Innovation Awards and EVERWIN received an award for the SCN51. A diverse panel of judges made up of contractors, construction business owners, tradesmen, and media professionals from across the United States came together to vote on entries submitted by top global manufacturers.
Here's what the judges had to say about the SCN51 Smart Coil Nailer:
"Not every coil nailer application requires a 2-1/2″ nail, so Everwin delivered a 2″ nailer to handle the lighter end of the job. What good is dropping 1/2″? It's nearly a pound lighter than the average 2-1/2″ model. There's also Everwin's Smart Trigger system. Rather than swapping a trigger or even flipping a switch, you can simply adjust your nailing mechanics to change between sequential and contact fire modes."
After looking through and judging hundreds of power tools, hand tools, fasteners, and accessories, winners were chosen based on industry innovation. Winners consistently demonstrated achievement in any combination of the following: innovative features, advanced power delivery, groundbreaking ergonomics, technological advancements, and value. The 2018 Pro Tool Innovation Awards recognize best-in-class products that are truly ahead of their time.
"Each year, manufacturers reach further and further to innovate and improve their products, helping improve job site efficiency, safety, and productivity. While incremental advancements are the norm, some products truly distinguish themselves in the industry and deserve particular recognition. Business owners, builders, contractors, and tradespeople can look to the Pro Tool Innovation Awards to find the products that will help them work more quickly, safely, and with greater efficiency," said Clint DeBoer, Executive Director of the Pro Tool Innovation Awards. "These new tools also tend to save Pros and businesses money in either material costs or time-savings. That's the kind of innovation that often speaks the loudest."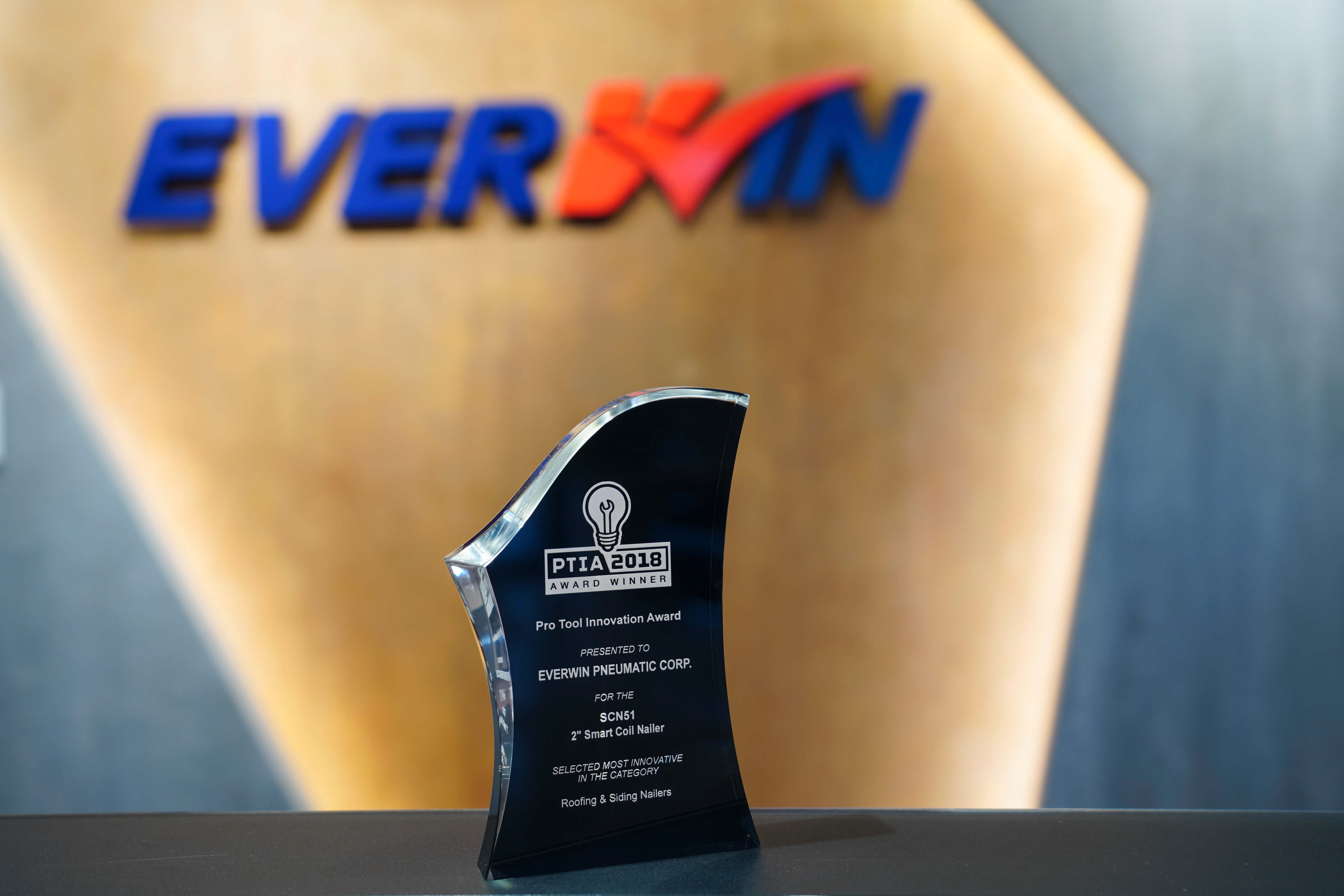 More about the EVERWIN SCN51:
The average weight of 2-1/2" (50mm) siding coil nailers today is 5.2 lbs (2.35 kg). Fused with advantages in weight, compatibility, and versatility, the Everwin SCN51 defines a new category of lightweight nailers.
Weighing only 4.3 lbs (1.95 kg), the SCN51 is 17% lighter than the average weight of 2-1/2" coil nailers. The weight difference makes a more maneuverable tool and lessens chances of occupational injury such as SLAP Tear. Despite its light weight, the SCN51 can drive .099" (2.5mm) diameter nails up to 2" (50mm) in length and sports the highest compatibility with different nail collation methods. It accepts nails in 0.27" ~0.315" (6.8~8mm) pitch, flat and conical coils connected by metal wire or plastic collation sheets.
The Everwin SCN51's Power-Plus Cylinder delivers 45% more driving power at 420 in-lbs, ensuring flush of large diameter nails (even ring shank) while maintaining its compact size. It also features a serrated contact tip, no-mar pad, smart trigger system to flip between contact and sequential-fire modes, multi-directional exhaust, rotatable rafter hook, and tool-free depth adjustment wheel.
About the Pro Tool Innovation Awards
The Pro Tool Innovation Awards (PTIA) are an annual awards program judged by a panel of professional tradesmen and trade media representatives in the electrical, plumbing, MRO, and concrete fields as well as landscaping professionals, general contractors, and builders. The Pro Tool Innovation Awards seek to discover and recognize the most innovative tools across a wide variety of industries and categories. The Awards are promoted by over sixteen print and online media sponsors, including its founding member, Pro Tool Reviews.
To view the original article, visit https://protoolinnovationawards.com/winners/2018-pro-tool-innovation-awards/2018-pneumatic-tools-nailers/