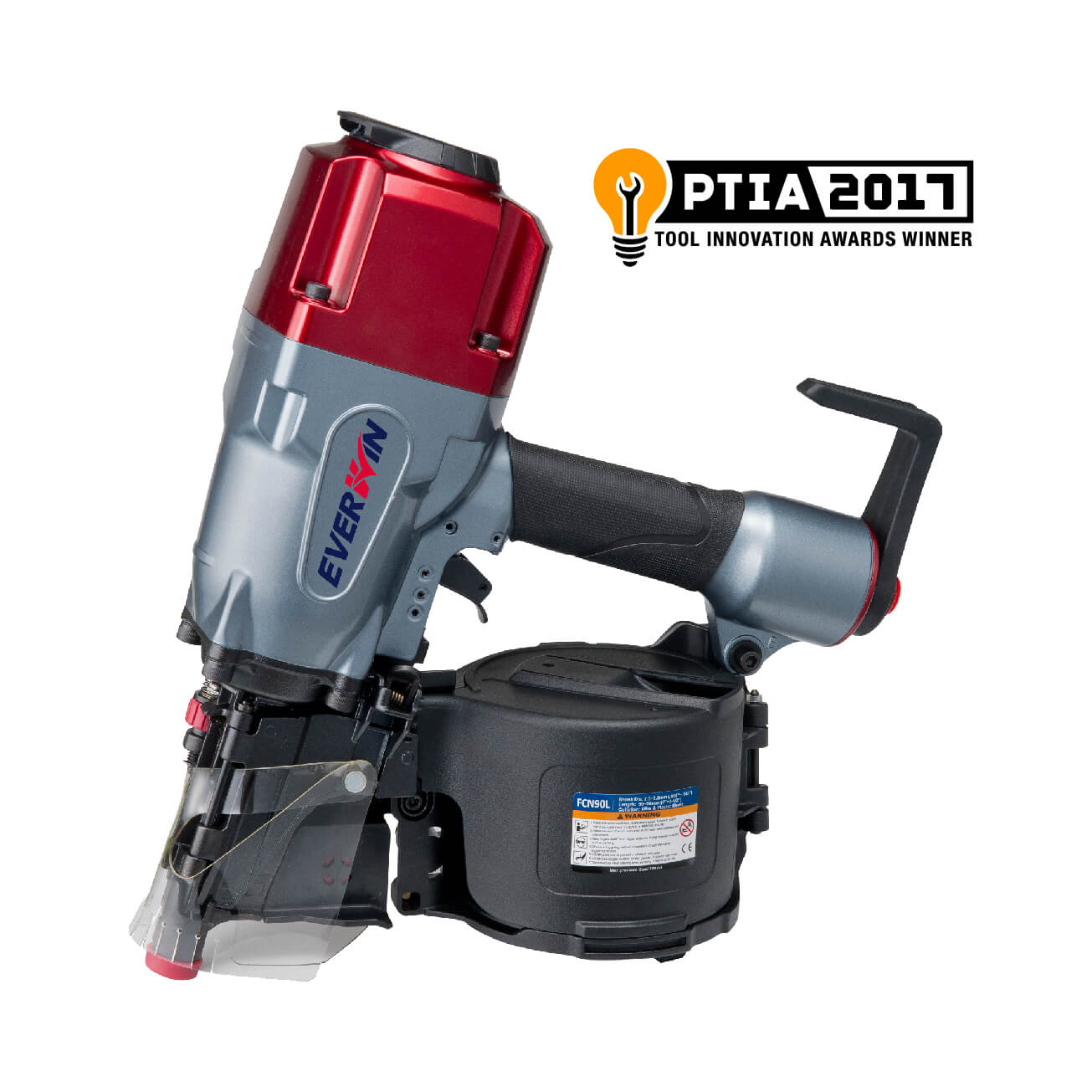 Media Reports
EVERWIN® Wins a 2017 Pro Tool Innovation Award
Sep 30, 2017

The contents below are based on Pro Tool Innovation Awards' publication in 2017.
This month wrapped up judging for the 5th annual Pro Tool Innovation Awards and EVERWIN received an award for the FCN90L. A diverse panel of judges made up of contractors, construction business owners, tradesmen, and media professionals from across the United States came together to vote on entries submitted by top global manufacturers.
Here's what the judges had to say about the FCN90L Smart Coil Nailer:
"Everwin nails it with their FCN90L Coil Framing Nailer. Its combination of lightweight, accurate nail placement, and versatility set it apart from other framing nailers. The light weight component is obvious – lighter weight means less fatigue over a long day. But what caught our eyes in addition to that and precision tip is the ability to change tips for different scenarios. Sure, we're going to want the serrated toe nailing tip most of the time, but it's good to have a flat tip and no-mar pads for the times that leaving a mark matters."
After looking through and judging hundreds of power tools, hand tools, fasteners, and accessories, winners were chosen based on industry innovation. Winners consistently demonstrated achievement in any combination of the following: innovative features, advanced power delivery, groundbreaking ergonomics, technological advancements, and value. The 2017 Pro Tool Innovation Awards recognize best-in-class products that are truly ahead of their time.
"Each year, manufacturers reach further and further to innovate and improve their products, helping improve job site efficiency, safety, and productivity. While incremental advancements are the norm, some products truly distinguish themselves in the industry and deserve particular recognition. Business owners, builders, contractors, and tradespeople can look to the Pro Tool Innovation Awards to find the products that will help them work more quickly, safely, and with greater efficiency," said Clint DeBoer, Executive Director of the Pro Tool Innovation Awards. "These new tools also tend to save Pros and businesses money in either material costs or time-savings. That's the kind of innovation that often speaks the loudest."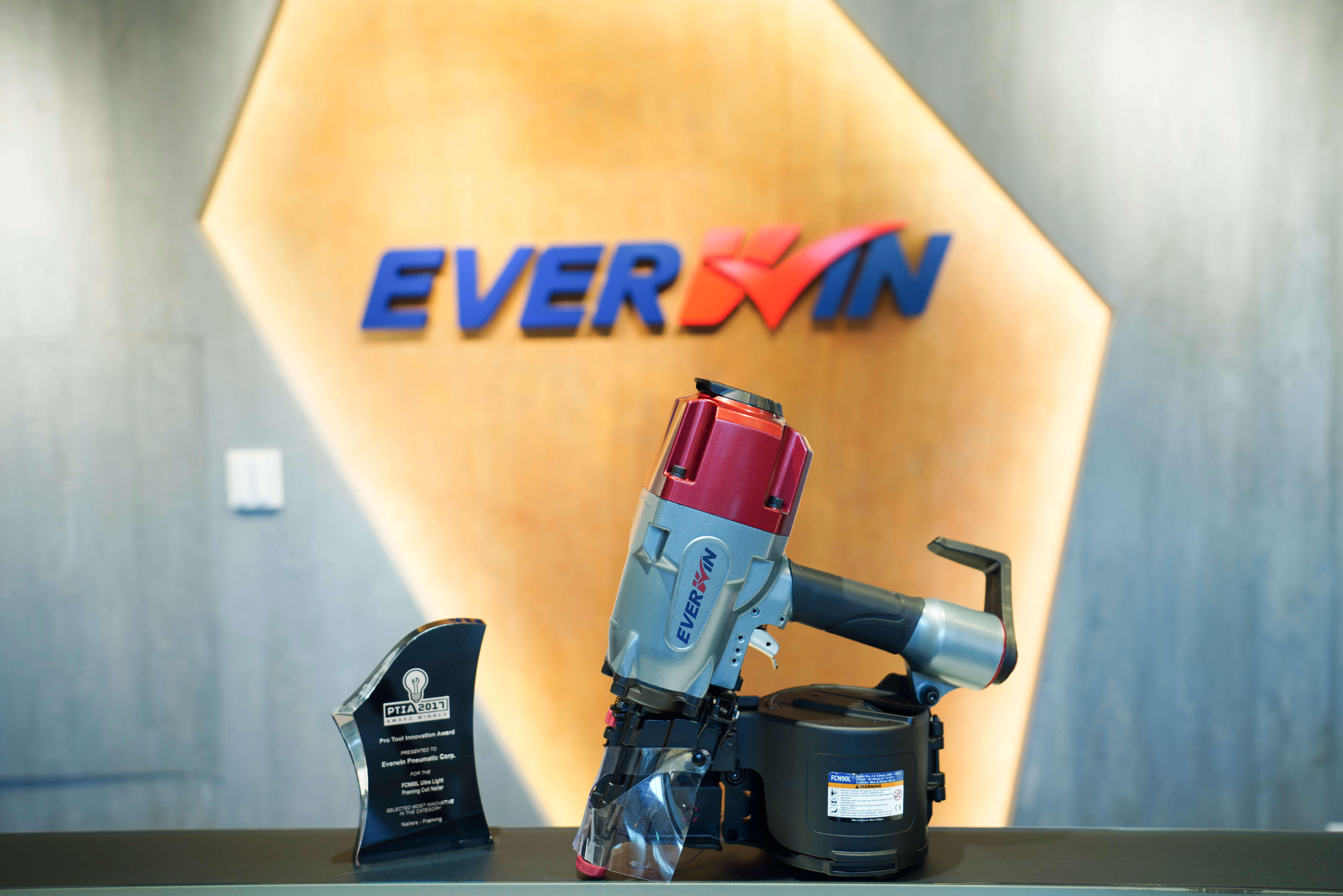 More about the EVERWIN FCN90L:
The FCN90L is the lightest 90mm framing coil nailer ever made. Weighing only 6.6 pounds, the FCN90L is easy to maneuver and causes minimal fatigue on professionals who do framing jobs all day. The leading manufacturers of framing coil nailers have on average a weight of 8.45 lbs., the EVERWIN FCN90L is over 20% LIGHTER THAN THE COMPETITION. With the best Power to Weight ratio in class, the FCN90L delivers the power to drive 3-1/2" nails into construction lumber.
The FCN90L implements EVERWIN's patented "Precision Nailing Technology". The funnel shaped contact element in this design guides each nail as they are driven down the nose bore. This ensures each nail is driven in the most vertical and centered manner possible, keeping the nail head flush to help ensure MAXIMUM HOLDING POWER and MINIMIZE FORMATION OF DRIVER MARKS. The contact tip is also designed much slimmer compared to conventional tools, giving the user a clear line of sight.
The FCN90L comes with 2 contact tips for different applications, a serrated tip for toe nailing and a flat tip for others, both tips are equipped with a no-mar pad when needed. Furthermore, because the FCN90L is light yet powerful enough to be used in decking applications, the clean, flush drive that Precision Nailing Tech delivers paired with its flat contact tip make a dream tool for decking professionals.
About the Pro Tool Innovation Awards
The Pro Tool Innovation Awards (PTIA) are an annual awards program judged by a panel of professional tradesmen and trade media representatives in the electrical, plumbing, MRO, and concrete fields as well as landscaping professionals, general contractors, and builders. The Pro Tool Innovation Awards seek to discover and recognize the most innovative tools across a wide variety of industries and categories. The Awards are promoted by over sixteen print and online media sponsors, including its founding member, Pro Tool Reviews.
To view the original article, visit https://protoolinnovationawards.com/winners/2017-pro-tool-innovation-awards/2017-pneumatic-tools-nailers/